Sprix is a portable, easy-to-use accessory designed for all who wear pants: it keeps pant hems clean, dry, and intact while doing bathroom business. Sprix is a patent-pending device consisting of two cuffs connected by a flexible coil. Each cuff is wrapped around the pant leg and ankle prior to lowering pants; the cuffs hold the pant legs in place, keeping the slack off wet, dirty, germy floors (while also ensuring that hems aren't ripped with a heel). The connecting coil is mainly for transport purposes and can be detached and re-attached in order to keep pant legs high and/or dry in other situations.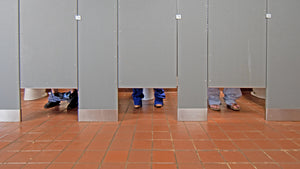 Is Sprix for me?
If you ever sit down/hover when using a public bathroom, Sprix is for you.
If you want to keep pants dry while popping a squat, Sprix is for you.
If you want to avoid ripping the hems of your pants with a heel, Sprix is for you.
Don't think you'll need Sprix in a bathroom? Simply detach the coil and affix Sprix for many other uses!
Don't think you'll need Sprix at all? Then give it as a gift for hostesses, travel companions, or as a stocking stuffer or surcee (that's southern for an unexpected gift).
Click below to learn more about just how germy bathroom floors can get and how Sprix came to be.
Learn More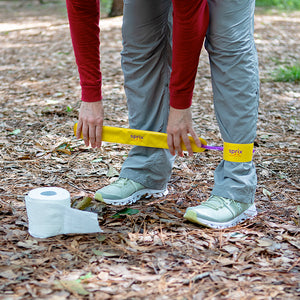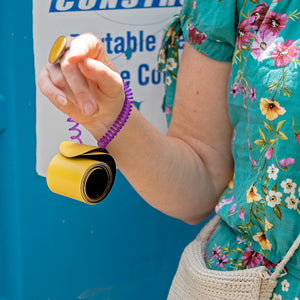 Use and Storage
Some of the many places where Sprix will keep your pants high and dry:
• Portable toilets (aka porta potties) • Festivals • Rainy days • Airplane lavatories • Squat toilets • Restaurant/store/gas station bathrooms • Office restrooms • Campground facilities • The great outdoors • Any public (or private if the floors are gross!) bathroom

Sprix can be easily and discreetly stored in your pocket or in a bag. The coil or the cuffs can also be wrapped around your wrist when product is not in use.
How else can Sprix be used to keep pant legs high and dry? Tag #sprixfix on social media to show us how you affix your Sprix!
How to Sprix
What are people saying about Sprix?
"The most fun I've ever had in a bathroom."
- Jen H.
"I love both sizes of @mysprix and do NAWT go out without them."
- Joe J.
"Wow! I had no idea this was a thing. Now that I do, I can't believe it didn't happen sooner!"
- Haley C.
"Tfw you know your pants won't puddle in the piddle."
- Anna D.